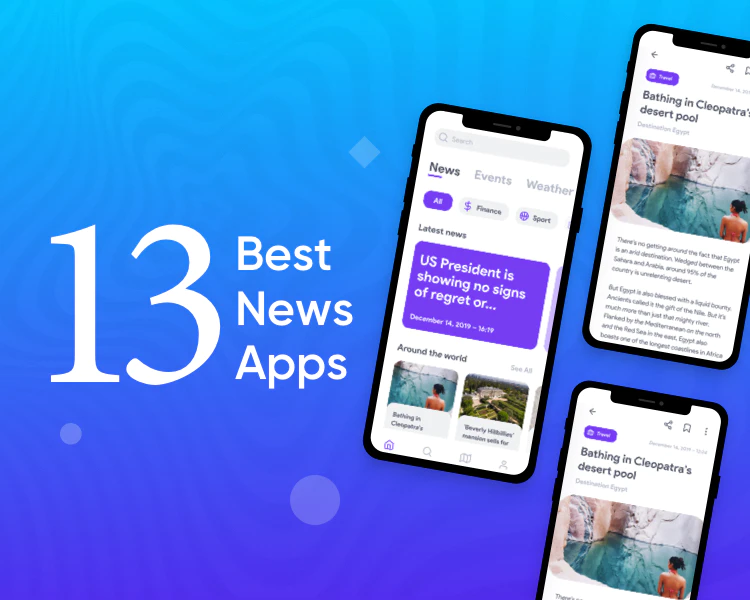 Whether you're a millennial looking for a way to read news, or you're a seasoned professional, there are several free news apps out there that can help you keep up-to-date. From CNN to HuffPost, these apps are perfect for anyone who wants to stay current with the latest headlines.
Google News
Whether you are an avid news junkie or just want to stay up to date on the latest happenings in your town, Google News is a great tool. It is free to download and works on iOS and Android devices.
When you are browsing a topic, Google News will suggest articles related to that topic. You can customize the type of articles you receive. You can also select from a list of trusted news sources.
Another great feature is the dark mode. This can be triggered when your phone goes into battery saver mode. You can also save stories for later reading.
It is possible to set up a daily briefing. This will bring you relevant news to your inbox in the morning.
Feedly
Whether you're looking for a news app for your Android tablet or desktop, Feedly is one of the best free news apps around. It's a full-featured feed aggregator that lets you save, read, and share content from a variety of sources.
Feedly can collect news from a variety of sources, including local newspapers, Google News, and Twitter. It also allows you to follow your favorite websites, blogs, and social media accounts. You can even create boards to organize your feeds. It has a nice layout, and the search feature is great.
When you're reading an article, you can choose a board to save it to, or you can manually add a favorite RSS feed. You can then mark the article as read. You can also find similar content by right-clicking an existing feed.
Flipboard
Originally designed as a digital magazine, Flipboard is now a social news reader. It allows you to collect and curate content, and interact with others using your social networks. It works on several devices, including iOS, Android, and Windows Phone.
Flipboard creates a personalized newsfeed for each user. It builds news reading experiences based on publications, topics, and your interests. You can follow specific topics or publications, and Flipboard will automatically suggest new topics and sources based on your preferences. You can also create magazines and save your own stories.
Flipboard also has the option to follow specific people and news sources, such as local news or specific blogs. It supports Facebook and Twitter feeds, as well as Instagram and LinkedIn feeds.
HuffPost
Founded by political activist Arianna Huffington, HuffPost is an influential news site. It has over 25 million monthly visitors. It publishes a variety of content including news, opinion pieces, columns, satirical writing, and blog posts.
The site also partners with the USC Annenberg School for Journalism's journalism program, led by former CNN anchor Willow Bay. This partnership helps HuffPost bring in new content from students. It also works independently from the site's editorial team.
The site offers readers a wide range of content, from original articles and columns to blog posts, satirical writing, and award-winning photos. The news section includes both local and international news.
Inoreader
Founded in 2013, Inoreader is an RSS reader that is designed for news consumption. It is free to use and allows users to access news and RSS feeds on both the web and mobile. Its features include a search function, a tagging system, keyword-snaring functions, and the ability to follow social media and public Lists.
The app is available for iOS, Android, and Windows Phone. Its minimalist design is reminiscent of the early days of the Internet. Its clean interface and distraction-free excerpt format help you focus on the content. It offers customizable organization and social sharing features, and you can create and manage your own RSS feeds.
CNN
Whether you're on the go, or just want to stay current on the news, the CNN free news app makes it easy to get the latest information, including live video and on-demand programming. Plus, you can personalize your experience with the apps' useful features.
With the CNN free news app, you can follow breaking news from the US and around the world. You'll also find the latest in news videos, photos, and news articles. You can save stories to read later, and you'll get alerts when your favorite topics are being covered.
In addition to the free CNN app, there are also live streams of CNN and other OTT services, such as YouTube TV, Hulu with Live TV, and DIRECTV Stream.